Our 2019-2020 Outreach (so far!)
As a FIRST Tech Challenge team, we strive to reach out to our community and introduce as many people to the FIRST Program as we can. Every year we participate in multiple outreach events with a variety of age ranges and groups to spread the word about FIRST as far as possible, so that anyone who'd like to participate has the chance to do so. We also hope to start more teams in Alabama by informing people on how to go about it and what tips and tricks to keep in mind. We currently have over 1,000 hours of outreach, and we intend to complete even more before the season is over! 
2019 Rocket City Invitational
Every year our team hosts the Rocket City Invitational to provide teams one more opportunity to get their robot on the field and compete before taking it apart. This year we had teams from all over, including Alabama, Tennessee, Georgia, Mississippi, and even Florida! It's always so much fun and we have a blast hosting it!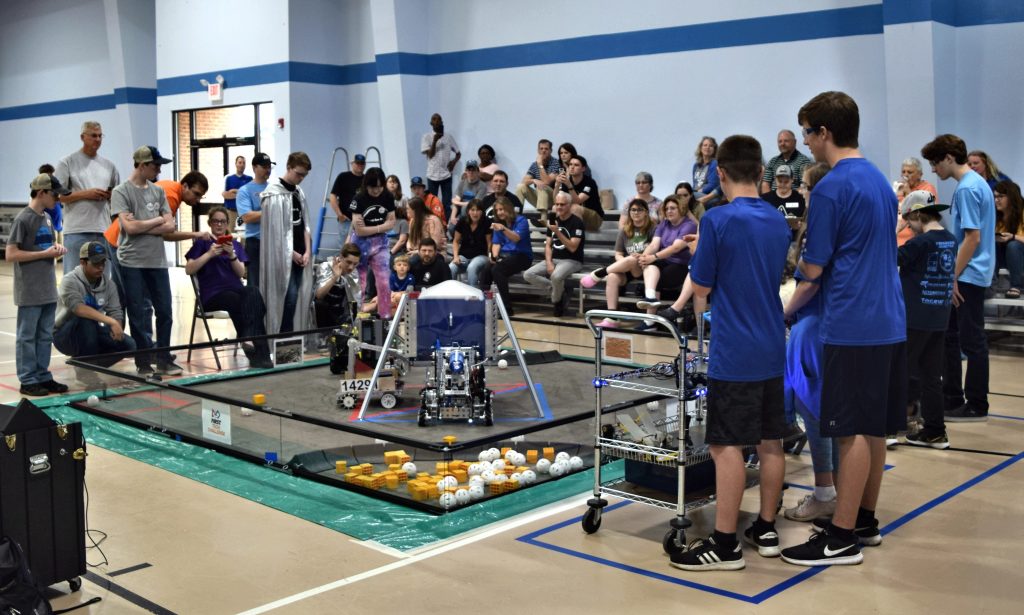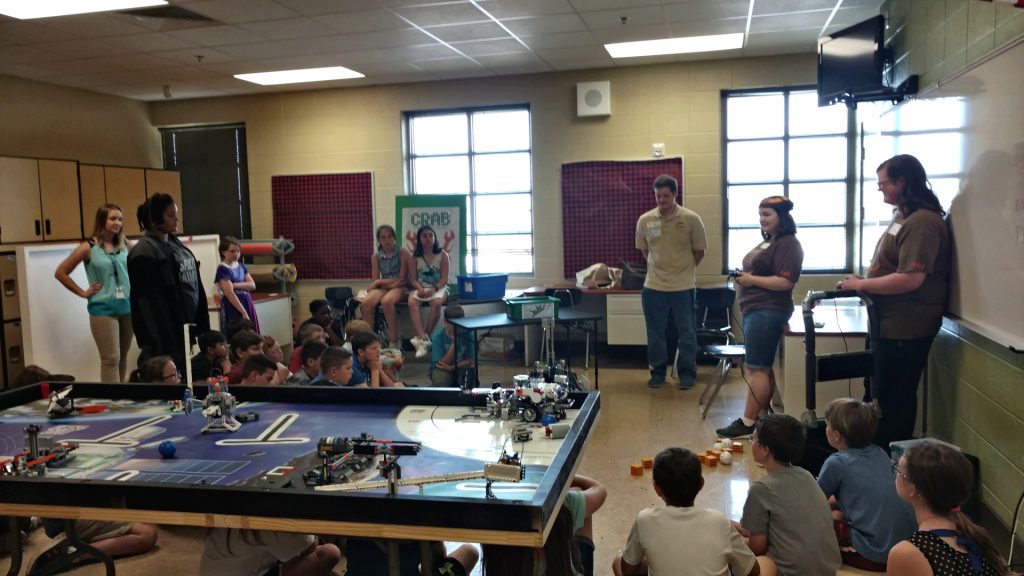 Goldsmith-Schiffman Elementary School Demo
FLL Team C.R.A.B invited our team to Goldsmith-Schiffman Elementary School to demonstrate our robot to a class of students and introduce the kids to FIRST Tech Challenge. We explained what the program is all about and how the transition between the two works. This event was a great way to spread the word about FIRST and show the differences between FLL and FTC!
Vacation Bible School Demo
Our team attended the United Methodist's Church's VBS to demonstrate our robot and introduce everyone to FIRST Robotics. We had a variety of age ranges: from pre-schoolers to 5th graders. We had about 200 kids in attendance, and we provided fun activities for them to partake in after the demonstration. This was such a fun event to attend!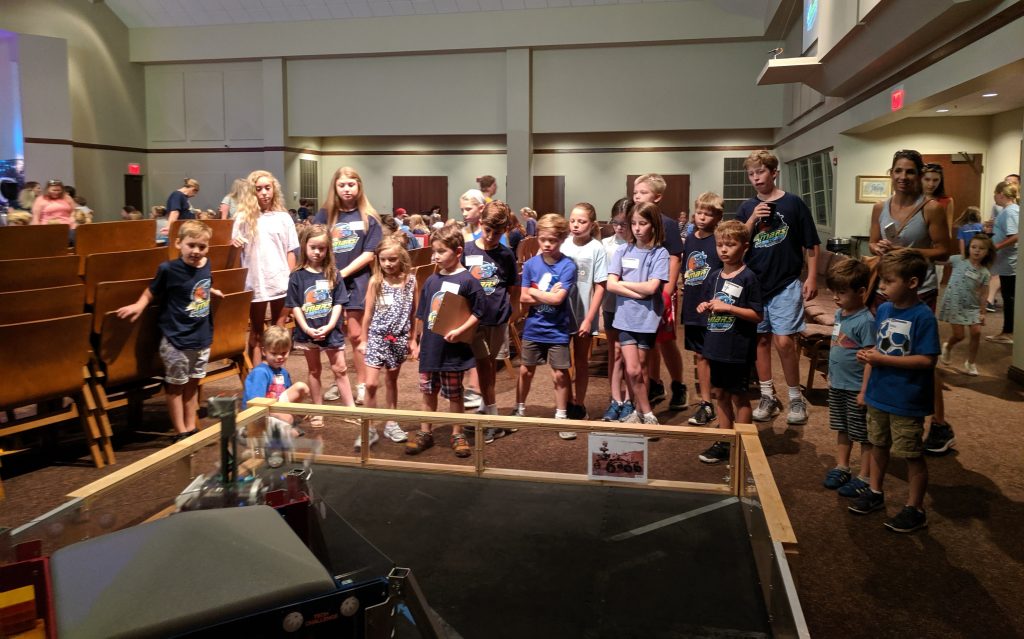 Garage Sale/Demo
Our team held a garage sale with the hopes of raising money for the team, and also spreading the word about FIRST Robotics by demonstrating our robot and discussing FIRST with those interested.  This event was a great way to spread awareness of FIRST, it was a great team building experience, and a fantastic fundraising opportunity! 
2019 Informational Meeting
Every year we host Informational Meetings at our local libraries to introduce more people to the program and get more teams in our area started! This year was a great success. We had lots of people interested in either starting or joining teams, or even just volunteering at FIRST events. It was a great opportunity and we're glad we were able to provide it for everyone!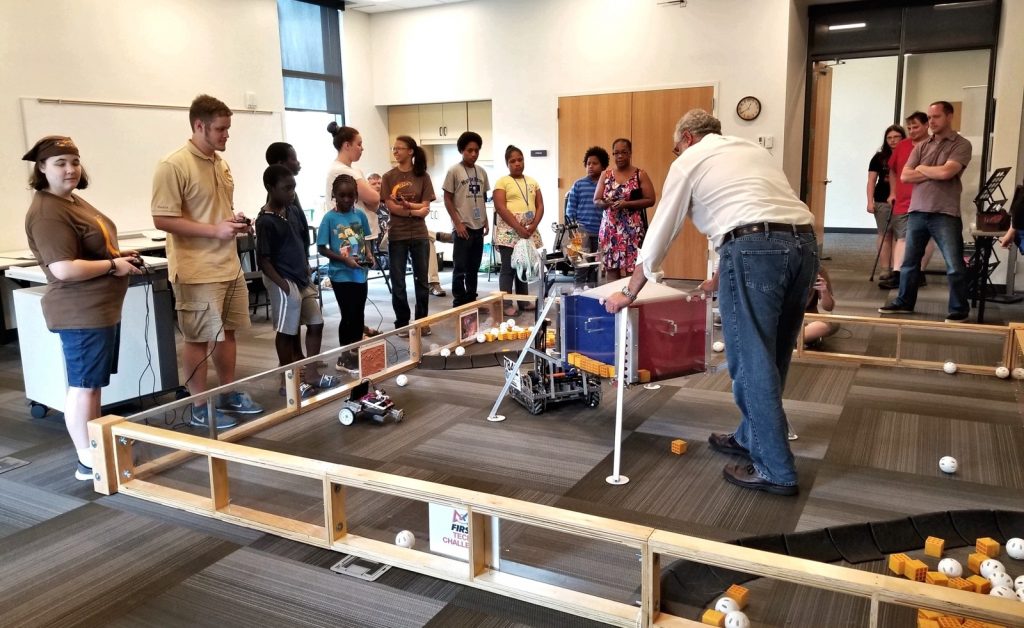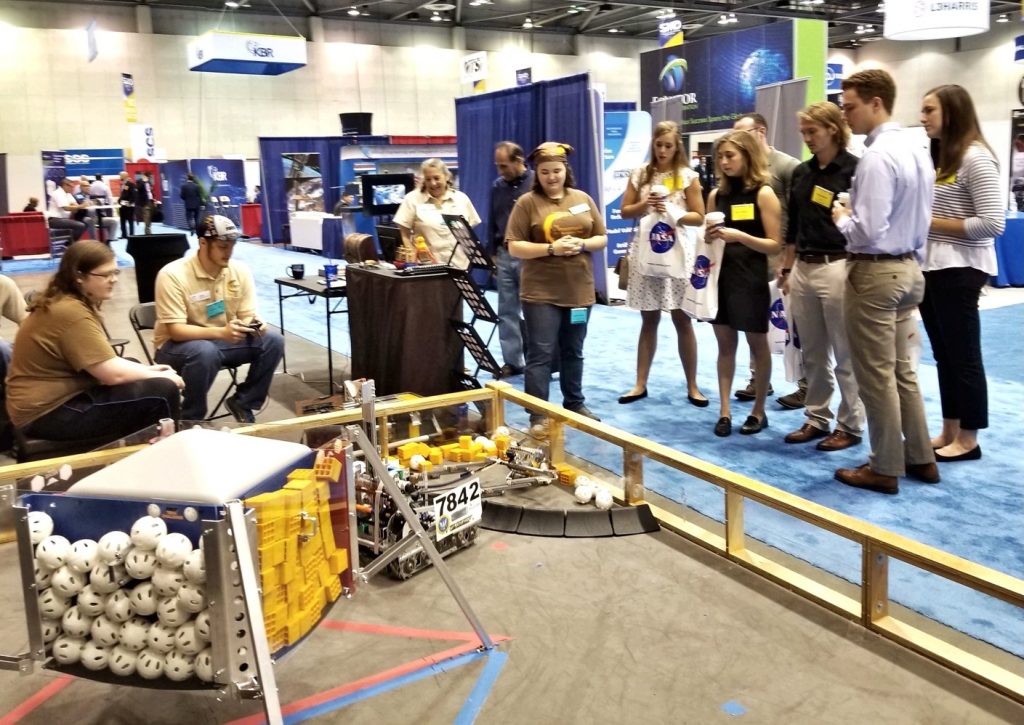 The Space and Missile Defense Symposium
For the last four years, we have attended the Space and Missile Defense Symposium, which is an engineering trade show. This event allows us to connect with our engineering community and spread the word about FIRST Robotics across the country. It's a lot of fun, and we always look forward to attending!
AUVSI Pathfinders Symposium
One of our sponsors, AUVSI Pathfinders invited us to attend their annual symposium, which was held at the U.S. Space and Rocket Center. There were a lot of engineering companies, along with families and students from the Space and Rocket Center's robotics camps. We demonstrated our robots, handed out all kinds of information, and let everyone drive our demo robots. This event was a fantastic way to reach out to many different parts of our community!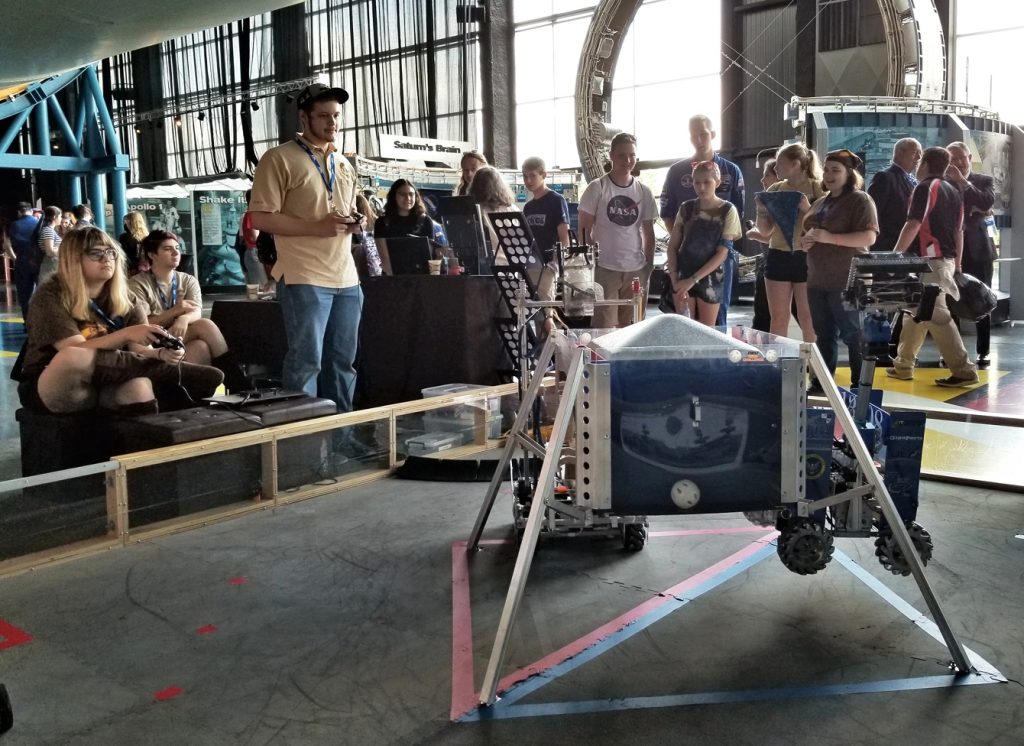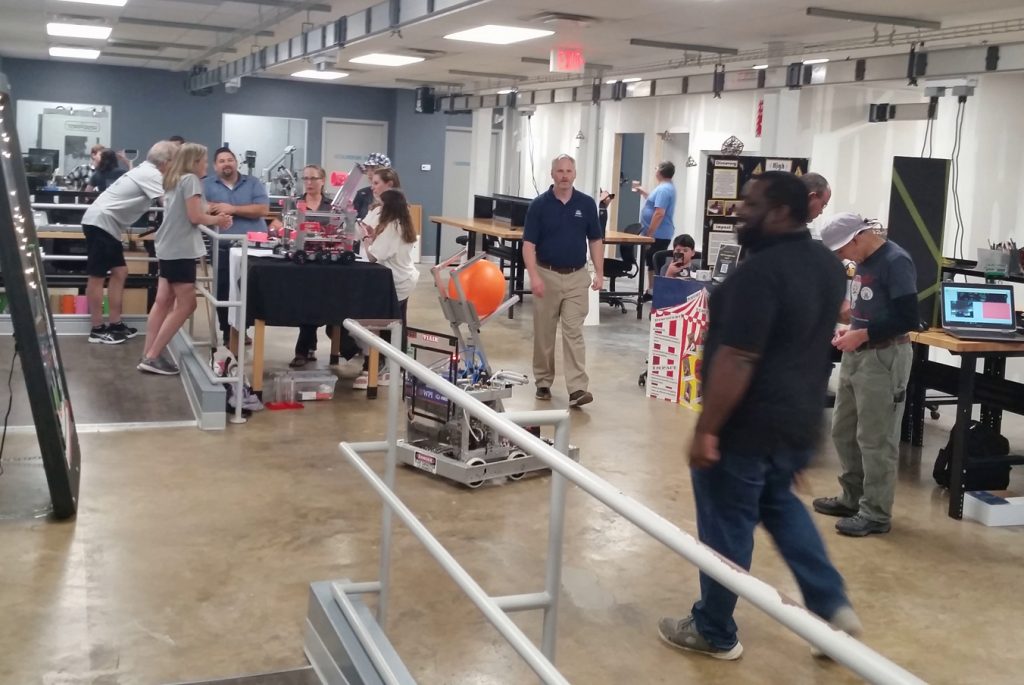 STEAMWorks Open House
We attended the STEAMWorks Robotics Open House with three FTC teams, one FLL team, and one FRC team! This was a great way for us to network with other teams from three of the four levels of FIRST, learn from each other, and to also meet with the new senior FIRST mentor in Alabama.
Huntsville HAMFest
For many years now our team has hosted the Youth Lounge at the Huntsville Hamfest. We always provide fun STEM related activities, and we demonstrate our robots and let the kids drive the demo bots. This year we had a lot of school teachers in attendance who were interested in introducing FIRST to their school, so we handed out lots of information to them. This event is such a great way to spread the word about FIRST to many different age groups!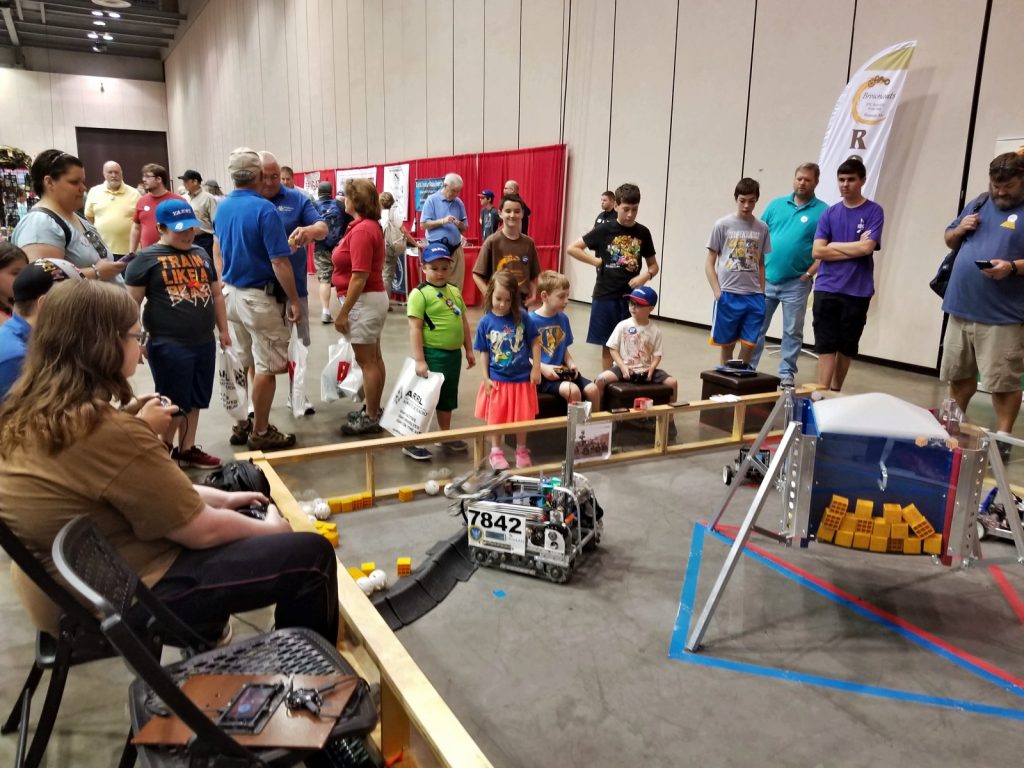 Kickoff/FIRST Open House
After the Skystone game was revealed, the venue was opened to the public. This event allowed us to connect with other FTC teams and hand out flyers to people interested in participating in FIRST and teach them all about the program.
Madison Street Festival
Our team attended the Madison Street Festival with over 50,000 people in attendance. We were set up in the Teen Zone where people of all ages drove our demo bots and we handed out tons of information about FIRST Robotics and STEM. This event was a fantastic way to reach out to people in our community that we might not have before and introduce them to FIRST Robotics!
WinterFest Clothing Drive
Throughout October, our team collected winter clothes, blankets, canned foods, and more to donate to Stand Down Together Huntsville to keep homeless veterans warm and fed. We also donated clothes to the Downtown Rescue Mission. Our goal is to keep as many people as we can warm this winter!